Lun-Yuan Enterprise Co., Ltd.--Crimping tools, Cable cutters, Cable strippers, Hydraulic tools, Battery tools, Hydraulic pump, Electric pump, Fish tape
- 2013/06/11 -
Lun-Yuan Enterprise Co., Ltd, established in 1983, is now a leading electricians tools in Taiwan. Lun-Yuan is specialized in manufacturing crimping tools, cable cutters, cable strippers, hydraulic tools, battery tools, hydraulic pump, electric pump, fish tape, etc. With incessant R&D effort, the company has been developing high-quality products of all. Also, the R&D can meet your require of OEM/ODM products as you designed.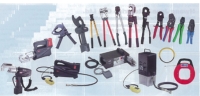 LUN-YUAN ENTERPRISE CO., LTD.
No. 27, Industry 16th Road, Tali Industry Park,
Taiping Dist. Taichung City 41154
Taiwan R.O.C
E-mail: opttools@ms46.hinet.net
Website: www.opttools.com.tw